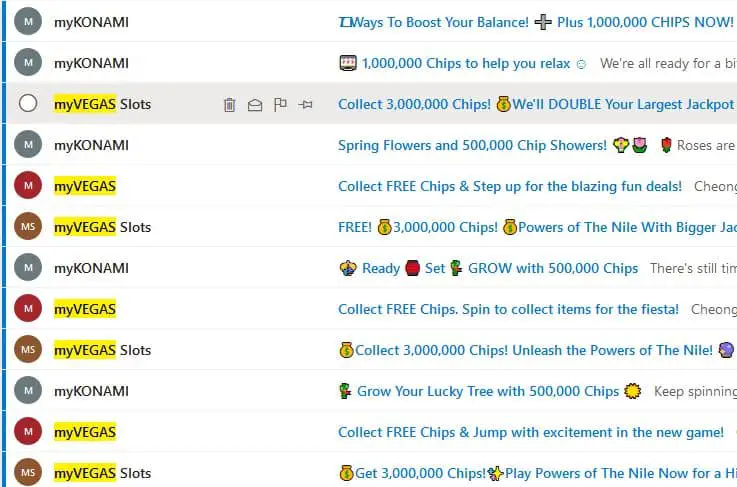 Collect Millions of Free myVEGAS Chips through your Daily Emails
Many people are missing out on millions of free chips.  If subscribed properly, you should be getting daily emails or at least emails every few days for all the different myVEGAS Games.  This includes the myVEGAS Facebook, myVEGAS Mobile, POP! Slots, myKONAMI Slots, and even myVEGAS Blackjack.  Most of these emails are UNIQUE and can't be shared, and the only way to get them is getting the daily emails.  I've seen free myVEGAS email chip links reach up to 777 Million so this is not something you want to miss.
Where are the myVEGAS emails coming from?
The emails are sent from these following email addresses, [email protected], [email protected], [email protected], [email protected] and [email protected], .  Please make sure these emails aren't in your junkmail folders, or add them to your email safe list.
Not Receiving Promotional Emails
When you initially connected your myVEGAS Games to Facebook, Playstudios took the email address on file for your Facebook account and subscribed it to their email list.  If you accidentally clicked 'unsubscribe' on past free chip emails, or no longer use that specific Facebook email, follow these steps to try to get your daily emails back:
Make sure you've connected the apps to your Facebook!  Without connecting, you will not get any emails!
Update your Facebook email.  I suggest using generic emails like hotmail or gmail so that there's less chance of the promotional emails being filtered.

On Desktop, click on the arrow on the top right, go to "Settings" -> "Contact", and then enter and confirm your new email address.  Make sure it's set as the primary.
On Mobile, click on the Menu button on the top right, "Settings and Privacy" -> "Settings" -> "Personal Information" -> "Email Address" and then update and confirm and make sure it's set as primary.

Contact Playtudios through this Link, and then click on the "CONTACT US" button.  Enter the necessary info as well as your new updated email address, and then under "Describe your problem", let them know that you're missing promotional emails for whichever games, and also note down your new Facebook email as well in the notes.
Within a few days of getting a response from Playstudios, you should start seeing free email chips again!  This method has been confirmed working, but sometimes, people still don't receive chip links from a specific game so don't be disappointed if that's the case.  For example, I receive emails from all games except for POP! Slots, but can't seem to get it back.