How to collect my KONAMI Slots Free Chips
Getting my KONAMI Slots free chips is unique as the game works both on mobile and on Facebook.  You can collect free my Konami slots chips and coins on either platform.
The process is identical, just click on each link and the game will automatically load where the screen will show a "Success!  Your Voucher has been redeemed successfully!".
Boxes that are blue denote that the chip link that haven't been clicked yet.  Red means that the my KONAMI slots free chips have been collected.
Problems collecting chips?  Read our my Konami Slots Chip Collection TroubleShooting Guide or join our Facebook Support Group!
Please RELOAD the page
if you don't see the latest chips!
my KONAMI Slots Free Codes
There used to be an option to manually add chip codes to the my KONAMI game.  These codes would give a set amount of chips or coins.  This process has ended, instead Playstudios has made it more efficient by just having to click a link to have the free chips and coins automatically added.
General Overview/ Gameplay
my KONAMI Slots is the third free to play Casino game produced by Playstudios along with: myVEGAS Mobile Slots, myVEGAS POP! Slots and Facebook myVEGAS Slots. You do need to sign in to your Facebook, being signed in allows for the synchronizing of your loyalty points across all the games, allowing you to earn and accumulate Loyalty Points across all four, that can be redeemed for real world rewards! Like all of the myVEGAS games, my KONAMI Slots requires a constant internet connection. You also need to remember that a limited internet connection can ruin your gaming experience. Many of the machines in my KONAMI Slots are games that you already love playing on the Las Vegas casino floors. If you like games that continuously update with new content, you'll love my KONAMI Slots. This free casino game is constantly getting new slot machines, which means that you can continually find new favorites.
This game is different compared to the other ones, in that it is identical on Facebook and android/iOS devices , so are limited to playing it on only one at a time. Unique to my KONAMI Slots, are a set of three daily challenges that have tangible goals to aim for, and if complete all three then will receive an additional bonus reward and start a streak bonus – earning even higher rewards – but miss one and streak resets.  Read carefully what each challenge entails, otherwise may waste chips.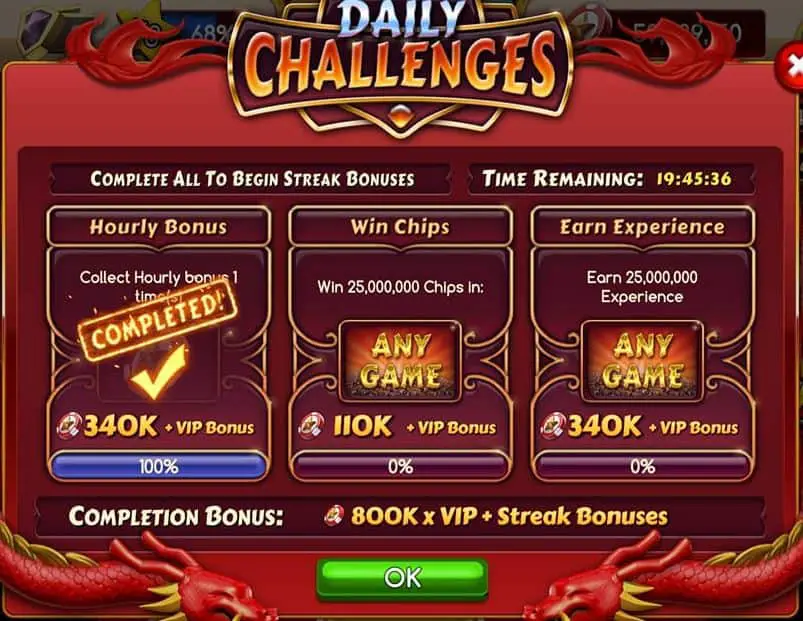 Another unique feature of my KONAMI Slots is the Bonus, the Mega Lucky Cat Machine.  This feature requires tickets that you collect in daily gifts and some challenges, however each spin is a guaranteed win either XP or Chips.
my KONAMI slots, like all the myVEGAS games, has the High Roller Rooms, where big bets can lead to big wins. However you need to be Emerald level VIP in order to access the High Roller Rooms. But remember while you definitely want to win more chips so you can raise your bets, and continue to play, the real objective is to win loyalty points.
You can earn VIP gems to raise your VIP level in two main ways:  1) Collecting the Time bonus every two hours which will give you  chips for gambling and gems for VIP. 2) Spinning the Daily Wheel, the  payout of chips and gems is dependent on your VIP level and day streak.
my KONAMI slots has the highest number of tournaments out of all the myVEGAS games, with mini tournaments starting every few minutes;  while the participating games and prizes vary with each tournament, there is bound to be at least one appealing one running at any given time, giving you more chances to earn big chip rewards.
An often overlooked feature in this game due to bad design choices is the Account feature in the upper right corner, it is  very easy to miss this and can be even harder to tap on smaller devices. This is where you link the game to your Facebook Account and more importantly collect your Daily Gift and any gifts your friends sent you.
How to earn chips

Chips are the in-game currency, to play the game you need chips. Chips have only one purpose: to play the game.  Each spin of the Slot costs a set amount of chips. If you lose they are gone, if you win you will get the winnings back in chips to spin again. There are multiple ways you can increase the amount of chips you have to betting:
Spinning the Daily Wheel is the biggest source of chips for many, with the payout of chips and gems dependent on your VIP level and day streak bonus.
Collecting the Time bonus every two hours also gives a constant influx of chips for gambling and gems for VIP, raising the VIP gives more chips and gems on this bonus, and since the VIP level transfers across all the games it is definitely worth doing.
The Daily Gift found under the Account tab lets you collects Tickets for the Mega Lucky Cat Machine, that is a guaranteed win of either XP or Chips.
Daily Email with a link to free chips, check your email daily for free chips, sometimes not redeeming for few days leads to big chips offer ones.
Tournament Participation, can be a great way to earn extra chips while earning those Loyalty Points, even if you don't win tournament, you will receive something at the end of each one.
The easiest and most often overlooked way to get free chips is Collecting chips via shared links – http://www.myvegasadvisor.com/mobile/my-konami-slots-free-chips/
Strategies and Tips
The perfect my KONAMI Slot strategy means you are spinning efficiently, spending only what you need to spend to collect as many loyalty points as possible. Not all slots are created equally. They all have different chip values for spins, and so some are not as efficient at gathering Loyalty Points.
Watch your daily Loyalty Point limit cap, do not play after reaching it.
Stock up on chips before you play. If you only have a couple thousand chips and then you go in to play, if you're unlucky, then you're done in 5 minutes. Games of chance are built on frequency, and the only way to keep playing is to start with a store of chips, even if it means just collecting chips for a few days.
Log in every day so you can collect your daily spin and daily gift to build up chips.
Read the daily challenges carefully to do what they require, bet the minimum needed to complete them.
Pay attention to completion of challenges if using the auto spin option, its easy to overspend chips with minimal Loyalty Points in return.
Double check bet amounts, sometimes the amount is reset after free spins or completion of challenge
Collect time bonus every 2 hours for easy chips and VIP gems
Don't start tournaments that have less than 5 minutes left since won't have enough time to place well even if get the big wins.